Harold Zwiers, Den Ham
Winner lock flight VNCC Limoges 2007
1e Preferred, 2e Un-appointed Champion VNCC 2006
2e UN-appointed champion VNCC 2007
Seizoen 2007 with the flight Limoges become history. The settings for the Championships for the old flights can be formatted. Harold Zwiers (38) competed for the highest places in the rankings. This is not for the first time. Past year (2006) He obtained the 1e preferred plus 2e UN-appointed General Championship and he was winner of Mont de Marsan. Since the building of his new loft in 1997 is his star only increased. 1999 6e multi-day long-distance champion Section 9 with 2400 Members; 13e and the 12e appointed champion VNCC. Also 1e Brive by 537duiven Circle 1 Department 9 with the 98-2047038 (600-line Wim Derksen) Teletext entry NPO.
2000
18e UN-appointed champion VNCC; 2001 9e UN-appointed champion VNCC; 12e preferred;
2002 2e UN-appointed VNCC (900 Members); 3e VNCC designated and 5e; 11e; 19e; 22e; 35e ACE pigeon VNCC.; 2003 a 5th to- and 15th UN-appointed VNCC Championship, also 2e ACE pigeon with Pearl cock; 2004; 12e UN-appointed VNCC + 4e Limoges afd. 9; 2005 a 5e to- and 9e VNCC UN-appointed champion and 2e Limoges afd. 9; 2006 : 1e designated and 2e UN-appointed VNCC and many other titles;
Seizoen 2007
Also over the past season can Harold satisfied look back. The victory over Limoges 2007 brought him very close to the coveted title of UN-appointed champion of the VNCC. In all likelihood he will received the silver medal in. If all the old flights would count than he would on the highest step allowed to stand. But "If" still has not. Harold: "What concerns the appropriate Championship was not my season this year. The weather conditions were not in favor of my pigeons. Just look at last year's Mont de Marsan. My winning pigeon had a speed of around 800 MPM. Those are the flights where my pigeons perform best on and then I can turn my designated pigeons ", Thus Harold.
Limoges 2007.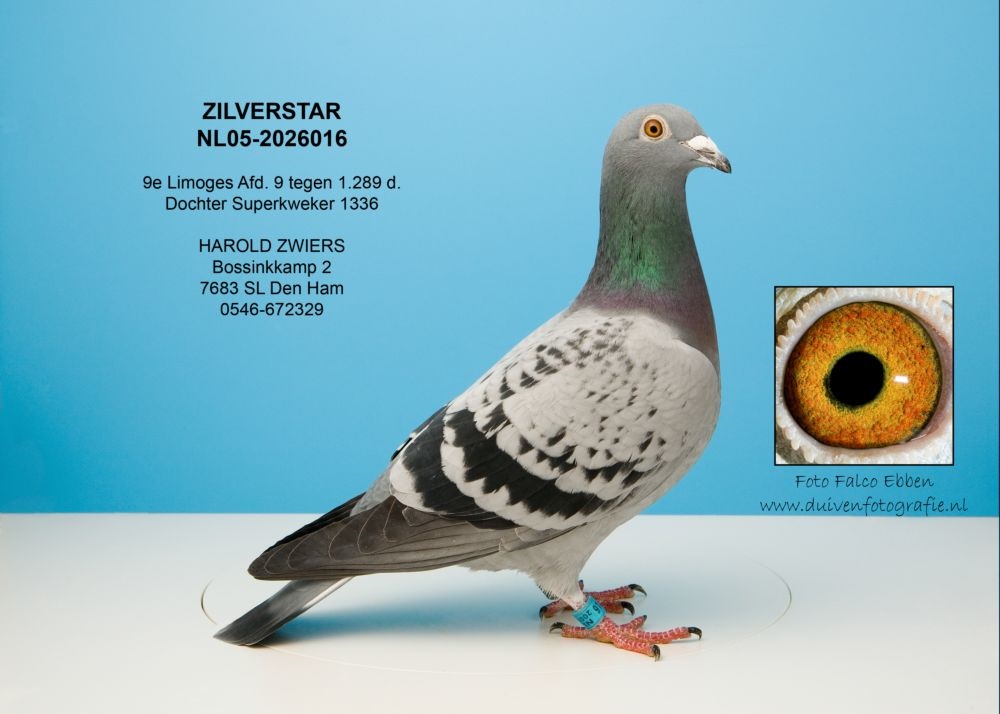 Many enthusiasts look dubious if it goes about Limoges. Late in the season and often "fall again". Harold Zaidi makes on this flight often perfect results. This year was his Silver star, a young hen with ring number 05-2026016 that in 2007 the victory won in the. As a yearling flew this hen a 9e on Limoges in the Division against 1289 pigeons. "This year they remained On Bergerac unfortunately 15 minutes on the roof. She was in place to encourage 7.50 hours, But despite the delay, she played a 133e by 3209 pigeons in VNCC. I have given her on Perigueux, but that was, in fact, no long distance race ", Thus Harold. The "Silver star" comes from Harolds best breeding couple, in fact, a super breeding couple. From this couple also comes the "Yung Limo", the hen who last year Mont de Marsan on her name wrote. Cock of this pair is the 94-0071336 either the "1336" a pure Theelen containing still "the 510", "The vale Marathon" this "1336" is father of the 1e-1e-2e-4e-6e– price in VNCC; grandfather of the 3e-11e-23e– in VNCC and the grandfather of 1e-10e– in section 9 and 10 x 1e in association etc. Father of "Silver star" is this same ' 1336 "mother comes from Am Alfering from Zandvoort, and is a granddaughter to the "Perpignan"-hen from the loft of Jan Walpot (1e National Perpignan and also mother of the 2e National Barcelona).
Family building
Harold doesn't love what growing concerns a realistic vision on after. "Growing a collection of pigeons is a matter of patience and quality. In the beginning, grow your multiple lines where you have confidence, but in the end the practice, that only a few pigeons are good enough to go. On my loft, are the two main lines where I after many years have built my loft. The Pearl line of Van der Wegen (via ruitenberg) and the descendants of the 94-0071336 either the "1336". The Limo Yung (winner of Mont de Marsan 2006 VNCC and also in 9e National) is again a daughter from this same ' 1336 "and the hen" Diana "called. This couple can be called a Super breeding couple.
Total widowhood and Nest game
Harold goes early in the morning from the springs and has little time to take care of the pigeons. The exhaust of the pigeons and the more extensive care come until later in the afternoon when he comes home from work. Striking is, that all pigeons enter the air: widowers, nest pigeons and widow hens: makes him no matter. Totally understandable, because if the four departments have to train after each other then the day deficit. Harold is to 20 widowers and many weduduivinnen and then also 16 couples nest pigeons.
Medical supervision.
In december a paratyphus Spa. Para stop by Van der Westhuizen of 14 days. Of course the hard edge against paramyxo. (January) and yellow under link Spa, but 4 to 5 weeks for St. Vincent the pigeons will be cured with BS from Van der Westhuizen during 6 days. When they return home 2 to 3 days BS. Also a few times WN (White noses of Van der Westhuizen) a day or 6 to 7 before basketing during 1 to 2 days. It is located on the condition of the pigeons at that time. A weekly tea (especially during the winter period)by Beyers; conducted with M.. Weekly garlic and Brewer's yeast in winter, also in summer day.
"In fact I know in early spring with all which pigeons go to a certain large national race, but it depends on the condition of the time wondering if they actually go along ", Thus Harold. Friday before basketing begins boosting the pigeons. By default, barley and super diet and later supplemented by a firmer mix and candy seeds (from Friday) So on Tuesday (day of basketing) the enter b only filled with a heavier mix and candy seeds. It must be so, that on Tuesday the corn continues to lie, otherwise they are insufficiently performed. The widowers get their hen not showing. Any hens are later (starting from Saturday / Sunday) stepped up and also get their cock not showing. The nest pigeons are on boy of no less than 6 days and get the same feed as the widowers basketed. A week before the big flights the pigeons will be patched to Arnhem or Den Bosch., usually Friday afternoons. Of course the hen or cock shown. When they return home is lightly lined and later stepped up again until they have recovered. Then they come back on barley and super diet to the next flight itself arises. Mentioned, it should be, that basically the cocks be conducted separately in the bins, so they can be dealt with separately, depending on the situation with regard to the flights.
All pigeons are linked between Christmas and new year.. The older widowers breed to 10 days and then the eggs are laid among the yearlings. The widowers only in May last year were herkoppeld and again put in widowhood. The old racing pigeons have a accommodation of 13 metres. In addition, a separate breeding loft and Harold hosted the young pigeons are provided with a run of 4 x 2,5 metres.
This year, the young pigeons to Chantilly. Harold: "Practice has shown, that gaining experience in the birth year just needed. That pays back again later. Chance of losses is still reduced ".
This is the story about Harold Zaidi. Still congratulations with this stunning victory over Limoges and the places of honor in VNCC. On to the party night in november.
Jan Gan