Harold Zwiers, Den Ham and Montauban
Winner area 3 Northern Union
1Ste VNCC (div 9)
5e international and national sector 3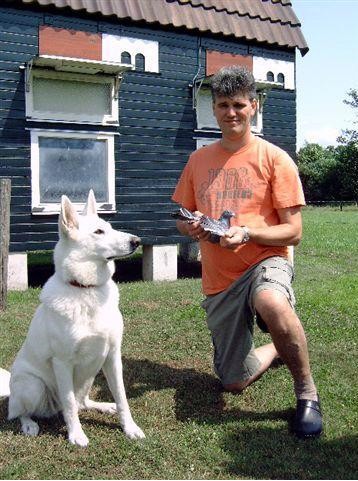 In 2002 I already wrote: "Harold Zaidi arriving talent" and since that time he has never been away from the national fondpodium. Because scoring is not unique at national level for this man from Den Ham. Not even in the weekend of national Montauban. Are "Scams" caused a surprising swipe by the 1Ste in VNCC (div 9) to win and at the same time to confiscate the victory in zone 3 of the Northern Union. This cock with ring number 06-1745600 was with 9 other basketted pigeons: in total 7 widowers, 2 nest hens and one widow-hen. The winning pigeon of this competition was "crowned" to 7.38.17 hours. He made a speed of 1363.840. The distance amounted to 991 km.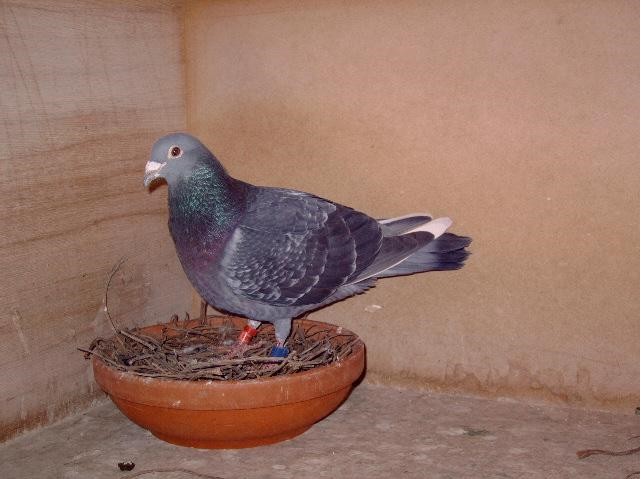 "Scam"
The winner of the competition is by Harold "Scam", because he was the only widower lived between the nest pigeons and very "annoying" was in that week. You read that right: If only the widower between nest pigeons. For most enthusiasts a very special way of playing. Apparently there was something going on what motivated him particularly. What concerns the origin of this cock, we can do no other than brief. In 2006 Harold bought a voucher of H. Saal from Wierden. In may 2006 Harold went to Wierden to the dove to pick up. This is the story almost over. Harold know to connect to, that he is from the Super 483 by Saar comes which in turn comes from a cock 100% P. v. Zyl (grandson Madame Perpignan, 1Ste International Perpignan and 3e National Marseille). The Super 483 flew o. (a). in 2005 a 133e National St. Vincent; in 2007 a 20e National Tarbes; a 57e National St. Vincent; in 2008 a 389e St. Vincent. These are the scores that Harold knew this weekend to figure out. In 2007 was the "Scam" played on Munich and came home injured. This year played at Limoges on eggs of 10 days and came on Sunday as fresh as a fiddle on the valve.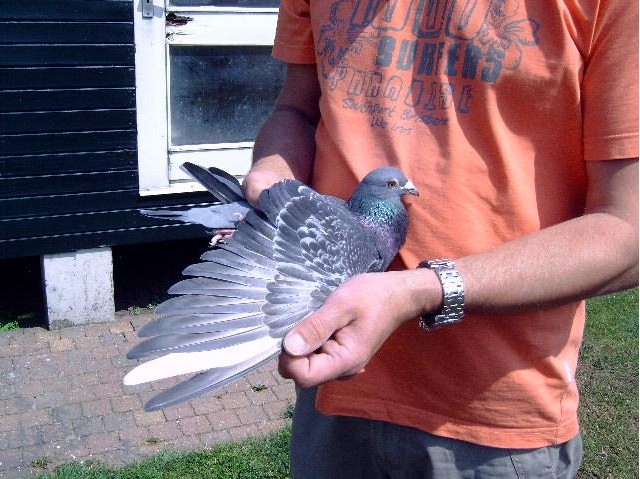 Phenomenal Series
Montauban is an of the longer overnight races. For Harolds pigeons 991 km. On this flight were the arrival times, very striking. The 10 put the following series down pigeons: 7.38; 11.01; 11.54; 12.15; 12.17; 12.25; 12.27; 12.35; 13.11 and 13.41 and then close the valves either all the pigeons went home. Harolds pigeons must then have a hearty tail wind??. The facts prove the contrary. In 2006 on the heavy Mont de Marsan with speeds below the 900 MPM: 1e VNCC ;10e Sector 3; 6e International. In 2007 He took a victory in VNCC on Limoges at a rate of slightly more than 1000 MPM.. This year 2008 a 5e in VNCC of Périgueux and the victory over Montauban. And so we can still go on.
Finally,
For those who want to see a good overview of the pigeons of Harold Zaidi can watch on his own current site https://www.haroldzwiers.nl So far the story about the winner in zone 3 Northern Union and VNCC: Harold Zain with his "Scam".
Jan Gan