Harold Zaidi manages the weather!!
In Den Ham, in the beautiful Twentse country, fell at Harold the winner of Zone 3.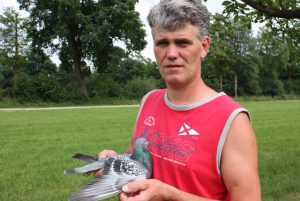 On my visit proved to me soon, everything here that's right: a wonderful environment to keep pigeons (Apart from the sparrow hawks), a solid loft, a super passionate lover and a fantastic collection of pigeons. The line of his ancestor , the 1336, He regularly closely in cultivation and then he crosses them again with other inbred pigeons. Jelle programmes are the favorite.
Marco, the zone winner, comes from such a crossing. It is a beautifully built duller and especially his eyes speaking to: a small pupil, something facing forward; a characteristic of many of his pigeons.
The expectations for St. Vincent (and Pau ) were high, for he had respectively 6 and 4 toppers "on the Queen's flight of the afternoon releases and on the opening flight Pau." In doing so, were the 7 first pigeons from the sweltering Bergerac from last year. That type he calls extremely suitable for its kind pigeons. Preferably 18 of the 20 pigeons flew when price!
Now won four of the six St. Vincentgangers price; by Pau they flew all four a on 10 price! What a super result for this topmelker! His pigeon turn out all-rounders, because the weather was now quite a bit different than during those sweltering Bergerac.
Harold is in the East known for its Championships in the VNCC, but is most proud of his title champion Marathon North Morning discharge 2014. He now focuses only on marathon afternoon flights- and morning discharge on national and international level. "Leading pigeons against thousands of/tens of thousands of pigeons, There I go for. " During the racing season from the most attention goes to the old fliers. Observe well and sees everything, as during my visit: "Look, You'll see that, that tiny feathers on the manure? That I would like to see!"The racing loft looks good, but the jongenhokken are not cleaned.
Harold also experiences that fond feathers costs. For the first time since a few years, he has in 2016 are two eerstgetekenden of St. Vincent back. Despite that and despite the great successes that he made he still still has an ultimate goal: Barcelona win. He is convinced, that it can, at this distance: with are still improving stock pigeons and at favorable weather conditions. It will amaze me nothing, He also manages that one more time!!