Harold Zwiers, Den Ham 1e Périgueux NOrth Union Zone 2 and fastest of Périgueux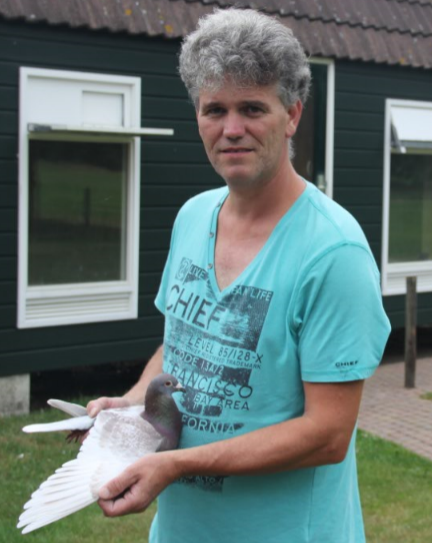 Périgueux got off to a very particular course. A number of arrivals in the neutralization time, and then there is only sparsely pigeons fell. Prices will then also after noon earned its. The fastest pigeon from zone 2 and also the fastest pigeon of the discharge from Périgueux we find at the famous marathon crack Harold Zaidi from the Overijsselse Den Ham. This 57 year old fancier plays practically all his life marathon. So around 1985 He made his debut with two doves on National St. Vincent. Showing 28th and 151st National above the rivers and that against thousands of pigeons. Harold is very excited about the overnight-Federation. Following the notifications, the built up tension and nice long wait at the Loft. He can't get enough of it. Starting from 1999 He joined the champions to find the strong VNCC.
In 1997 Harold joined in marriage, built a home and a new loft with place for 40 Flock pigeon. To 2010 There was total widowhood. Now all on nest, What is easier with the letting training the pigeons. The basis of the current strain is of the roads and Jan Theelen. Harold had eight basketted pigeons for Périgueux, eventually six of which win a prize. Harold was Friday night at half past four wake up. It started to shimmer, but he saw no Dove. It was very cloudy. On his cellphone he had seen elsewhere closer all notifications. Harold stood in front of the Loft pigeon when he heard come. He fell some two metres for him smack on the valve. The valve went loose and the light went on. Then the pigeon clocked: 04.12.46 hours. It was the NL 15-1303206 ' Red Dawn ' a red scratch duller with a super pedigree. This year he flew already on Limoges 176th of 1.279 pigeons. So now the fastest of Périgueux of 7.131 pigeons and, of course, also the fastest in zone 2 by 3.920 pigeons. Father is ' Red Jacobs ' Patriarch of the Loft, that a whole batch great pigeons in the world put. He comes from ' the 1336 ' by Jack and Co, Bavel x ' Diana ' by Aamir. A formidable couple what has produced many top pigeons. The mother of ' Red Dawn ' is ' Daughter Jan 111 ' by Arjan Beens. She comes from ' Jan 111 ' x ' Miss Sjaan ' and we're talking about a top couple of the mirakelman from Genemuiden. ' Red Dawn ' was the only widower between the nest pigeons. Both he and his hen on Limoges as Périgueux played successful. The care is simple. As a base mixture used Harold 50% Jacob Sport of Badr – 25% paddy and 25% Zaher. The last four days the pigeons will be stepped up with Jacob high fat of Badr with extra hemp, Candy seeds and peanuts. Growers and youngsters are never cured. This year's yearlings a Belga Magix pinned up and two days nagekuurd. They had a light yellow infection according to veterinarian Jellema. Annual slips against para-myxoma (February) and paratyphoid (March). Harold plays both the ZLU flights as the traditional overnight program. A winner where we certainly going to hear any more of this season!
Klaas Mulder