Harold Zwiers, Den Ham winner St. Vincent with the "Marco" 12-1164272 against 729 d.
It's us with the weather conditions. Starting at the beginning of season 2016 It is Hammad with the weather. Much too cold started and then a lot of rain on the weekend made it the discharge managers very tricky. Therefore, it fell still, that the St. Vincent-pigeons on Saturday at 13.00 hours went into the air.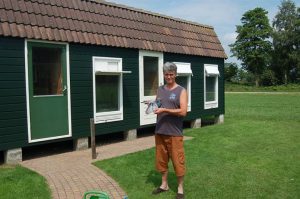 For the distance men was an extra busy weekend with go for Bordeaux ZLU Pau and Agen. It is high season for the distance men. Similarly for the main character of the winner St. Vincent in vncc, t. w. Harold Zwiers (47 Jr). We are visiting the winner of st. Vincent 2016.
't must 2008 have been, we last when Harold visited are. It would be on the occasion of his victory over Montauban must have been, but I am not quite sure all over, It all looks different from: in the meantime, there is a beautiful Conservatory lean-to; the Loft has been given a totally new front; the young pigeon loft, in which also housed the breeders are, is completely refurbished and in addition, Harold still about a "junk box" in which the late youngsters are housed. In addition, Harold also his website picked up again. But everything should be back to even be perfectly finished. "perfection" is the key word that suits Harold.
As I said, it was a busy weekend. Harold had there 4 on Pau. To 8.17 you. in the morning he could close the valve:All 4 at home and in the prices, Het35 was in the FU2000-50-71-107 against 939 d. A great performance.
Back to St. Vincent: in our VNCC was the 1-69-95 against 729 pigeons. The winner was 14th of the entire convoy against 13.472 pigeons. Are themselves excellent.
But: successes are not obvious. You have a lot to do. For example: to Kerkdriel to baskets for a training flight to Quiévrain. Or self training to Roermond with you out of bed before dawn on weekends or Friday morning. Also with training with the youngsters is Harold not to faint. From all directions (preferably from Germany) is trained or the old pigeons patched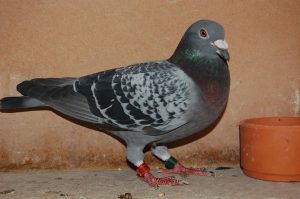 "Marco" is the winner of the competition, on his mother's side a grandson of the basic torque 1336 Diana x where a lot of good offspring from emerged. A son of paternal "Marcel" (M. Deeds) from Gerrit x Gerda (Likewise M. Deeds)
Use is further by Babu mixes with the last days before basketing the in the long distance-oriented mixes supplemented with candy, Tovo, peanuts etc,
Harold still congratulations with this victory!
Jan Gan